Auxiliary Contact:
What is Auxiliary contact?
Auxiliary contacts are supplementary contacts that are added to a circuit to protect the main contact. This accessory allows you to check the status of a Miniature Circuit Breaker or Supplementary Protector from a remote. Simply explained, it aids in remotely determining whether the breaker is open or closed. This device can be used for a variety of purposes other than remote status indication. 
The Miniature Circuit Breaker will turn off the supply to the motor and protect it from the fault if the power circuit has a fault (short-circuit or overload).
However, a closer examination of the control circuit reveals that the connections remain closed, supplying electricity to the contactor coil unnecessarily.
To know more about Auxiliary Contact CLICK HERE
Some of the auxiliary contacts of the MCB are explained below:
Alarm Auxiliary:
When a Miniature Circuit Breaker or Supplementary Protector is tripped, the Alarm Auxiliary attachment sounds an alarm.

An overload, short-circuit, Shunt-trip accessory operation, or Under voltage / Overvoltage module can all cause a trip. Unlike a conventional auxiliary, the Alarm Auxiliary will only change the state of its contacts if it is tripped.

Its contacts can be employed in the audio alarm or visual indication actuation circuits to alert the operator to a system failure.
These contacts can also be integrated with control systems like PLC/SCADA/DCS systems as a Digital Input signal.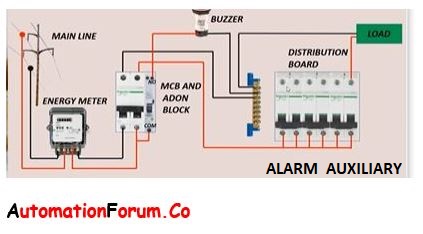 Shunt Trip Module:
The Shunt Trip Module is used to switch off electricity to any equipment or machine connected to the Miniature Circuit Breaker or Supplementary Protector to which it is connected.

When the Miniature Circuit Breaker or Supplementary Protector receives the specified control voltage across its coil terminals, this accessory will cause it to trip.

An "Emergency Stop" circuit would be a suitable use. When the equipment supply must be turned off, the emergency switch will activate the shunt coil, causing the breaker to trip.
High Voltage/Low Voltage Module:
A solitary Miniature Circuit Breaker, as previously stated, solely protects against overcurrent and short circuit.

When an Under voltage/Overvoltage module is employed, the applied voltage across its coil terminals falls outside of the specified band, tripping the Miniature Circuit Breaker or Supplementary Protector.

An Under-voltage/Overvoltage module protects against voltage swells and dips. Only until the supply has returned to normal can the breaker be turned on.

This adapter makes it simple and cost-effective to apply this approach.
Busbar:
Panel builders frequently employ a busbar system for efficient and error-free power supply to Miniature Circuit Breaker terminals to reduce labour-intensive wiring work.

Busbar systems, with their current carrying capacity and structure that varies according on the number of poles, might be considered the next level of jumper.
Lock-Off Attachment:
Only an authorized individual should switch the Miniature Circuit Breaker to the ON state after a trip in particular instances.

When the power is turned off during panel maintenance, a lock-off attachment is installed on the circuit breaker, along with a padlock, to prevent un-authorized entry and an unwanted or hazardous event.

The value of the Miniature Circuit Breaker is improved when its functionality is expanded through the use of accessories, making application realization simple and cost effective.